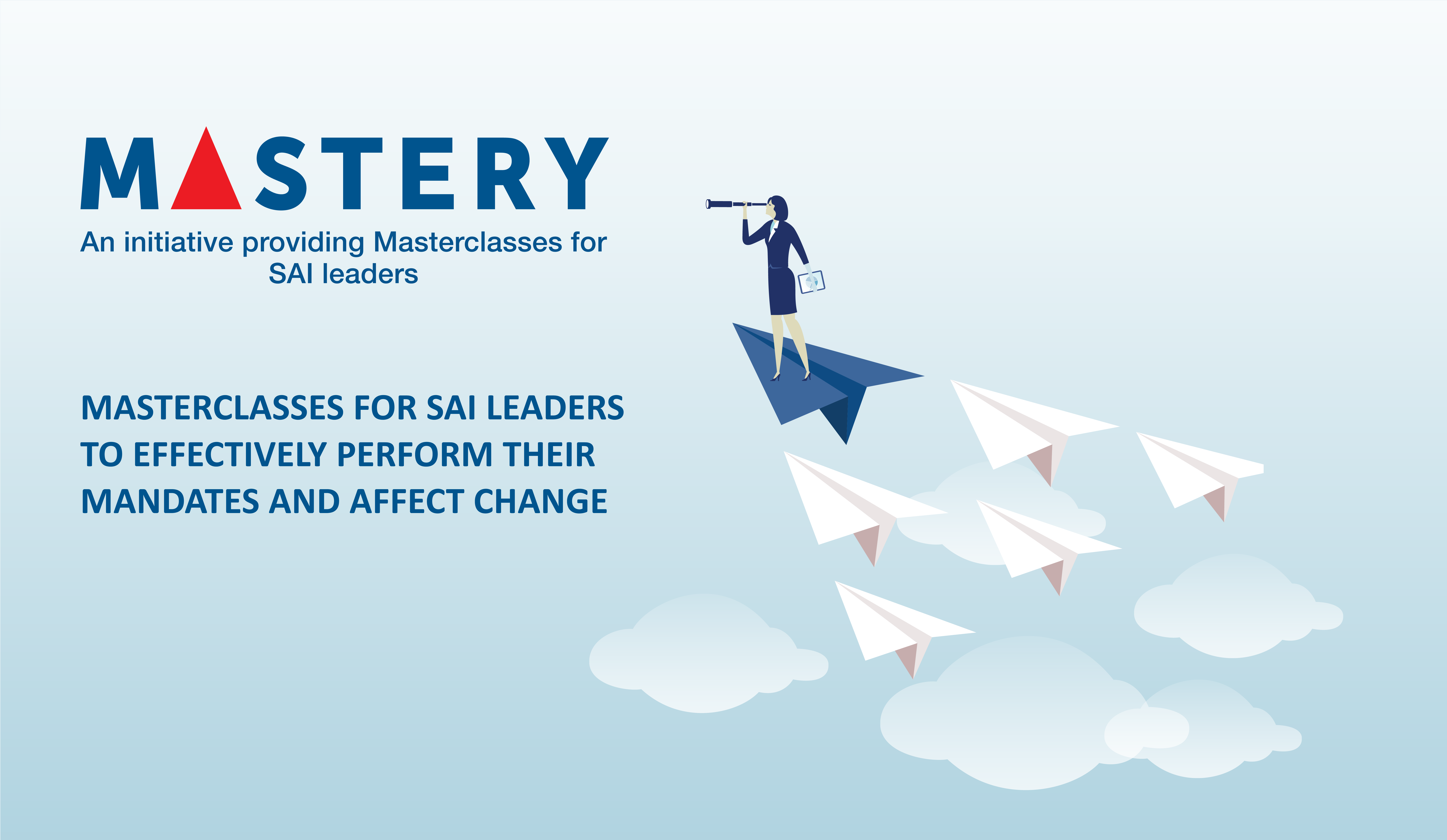 MASTERY is a new IDI initiative aimed at empowering SAI leaders to effectively perform their leadership roles and so exert a greater impact within and beyond their SAIs.
SAI leadership is widely recognised in the INTOSAI community as the most effective moving force, which transforms an SAI. Supporting SAIs in sustainably enhancing capacities and performance is impossible without SAI leadership driving positive change.
Against that background, IDI's MASTERY initiative: 
Supports Heads of SAIs in leading their organization through change towards greater effectiveness, impact and sustainability  

Focuses on crucial topics for effective SAI governance, such as SAI independence, strategic foresight and gender

Provides a closed-room discussion forum where selected SAI leaders and peers can interact, share experiences and receive advice  

Establishes in-depth understanding of the focus topic and translates it into concrete actions for and by SAI Leadership 

Consists of a carefully crafted set of reading materials and supporting tools; two half-day workshop-style sessions led by IDI and other experts, as well as individual guidance and coaching by a dedicated IDI adviser for each selected participant 

Foresees that participating Heads of SAIs will develop and implement succinct action plans in relation to the specific topic aiming to spearhead the transformation process in their SAI 

Involves internationally renowned speakers and experts from and beyond the SAI community 

Depending on the topic, participation may be by invitation only
Rationale and objectives
Leadership sets the tone at the top and guides the organization towards affecting change. It is critical for achieving good governance in the SAI's operations and in demonstrating transparency and accountability as an organization. Leadership is also a main driver of achieving quality audit work in line with standards and in managing relationships with key external stakeholders, among others.
MASTERY aims to:
Enhance their understanding of the importance of their roles in different aspects that affect the operation of the SAI 

Share their experiences and challenges, get advice, and learn from those of other SAI leaders and experts 

Implement specific actions in a specific topic of interest that will in turn contribute towards an effective SAI 
Implementation approach
The implementation of MASTERY commenced at the start of 2021. Main steps in the roll-out of the initiative include:
Research and analysis of emerging issues and trends that are particularly relevant for SAI leadership (first quarter 2020)

2021 Masterclass topics selection and selection of participating SAIs (second quarter 2021)

Development of pilot Masterclass on SAI independence (Second quarter 2021)

Implementation of pilot Masterclass on SAI independence (Third quarter 2021)

Roll-out of at least two other Masterclasses per year (2022 onwards)

Support to Selected SAIs on implementation of Action Plans (2022-2023)
Leadership Masterclass 2024 Programme Announcement
For more information on the IDI Leadership Masterclass, you can download the following document: