Supreme Audit Institutions' Insights and Recommendations
Are Nations Prepared for Implementation of the 2030 Agenda?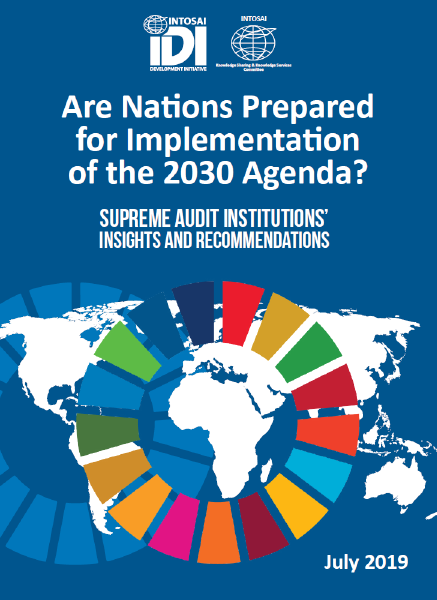 In September 2015, all United Nations Member States jointly committed to the 2030 Agenda and its Sustainable Development Goals (SDGs). The International Organisation of Supreme Audit Institutions (INTOSAI) recognised the importance of this agenda in making a difference in the lives of citizens. INTOSAI called upon its member Supreme Audit Institutions (SAIs) to contribute to the follow-up and review of the SDGs within the context of each nation's specific sustainable development efforts and SAIs' individual mandates.
Since 2016, INTOSAI Development Initiative (IDI) and INTOSAI Knowledge Sharing Committee (KSC) have supported seventy three SAIs and one sub-national audit office in different parts of the world in conducting performance audits of preparedness for implementation of the 2030 Agenda.
This publication provides the reader with an overview of insights, recommendations and impact of SAI preparedness audits. It also shares SAI experiences, challenges, lessons learned and future plans for auditing the 2030 Agenda. We hope that multiple stakeholders e.g., SAIs, INTOSAI bodies, INTOSAI regions, national governments, Parliaments, UN agencies, development partners, civil society organisations, professional bodies, academia, private sector and citizens will find this an interesting read.
This story of SAI audits of preparedness reflects on three key questions:
What value and benefits did the SAIs contribute through the audits of preparedness?

How can SAI performance and capacity for auditing SDGs be strengthened?

How can this effort be sustained?
We are thankful to 41 SAIs, one sub-national audit office and stakeholders who have provided inputs for this publication. IDI also acknowledges the valuable guidance and support provided by experts from US Government Accountability Office, United Nations Department of Economic and Social Affairs (UNDESA) and Pacific Association of Supreme Audit Institutions (PASAI).