Governments across the world have spent trillions of dollars in responding to the COVID-19 crisis. While speed and agility are crucial in such a response, the spending will not be effective without adequate safeguards for transparency, accountability and inclusiveness.
Staying relevant to this emerging issue, more than 40 SAIs across INTOSAI regions have taken up audits on 'Transparency, Accountability and Inclusiveness of Use of Emergency Funding for COVID-19 (TAI Audits), as a part of a global compliance audit being facilitated by IDI.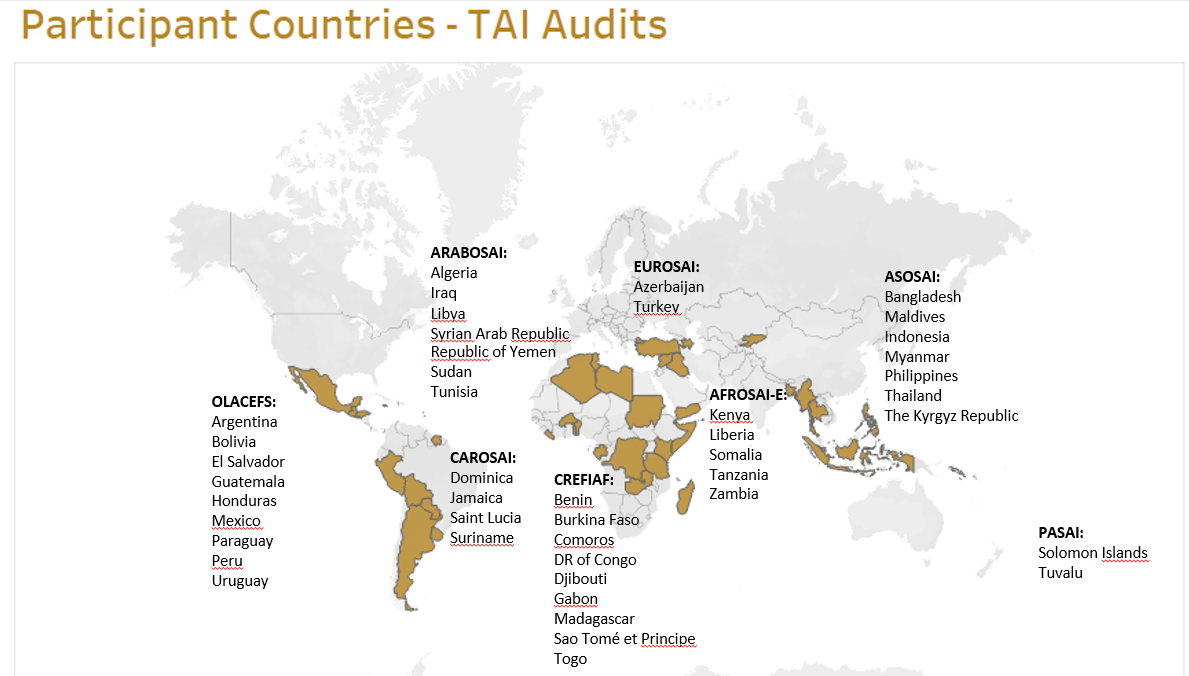 TAI audits are ISSAI-based, agile compliance audits that examine the extent to which governments provided for transparency, accountability and inclusiveness in the compliance frameworks and transactions for COVID – 19 spending. They can focus on
Emergency public procurement, management of donations, supply
Socio – economic packages
National rollout of COVID-19 vaccines
Within the audit process, the TAI audits mainstream quality requirements, impact considerations and stakeholder engagement.
IDI is employing a variety of flexible online delivery mechanisms to support SAIs in conducting TAI Audits. These include guidance, education, audit support, facilitating stakeholder engagement and audit impact.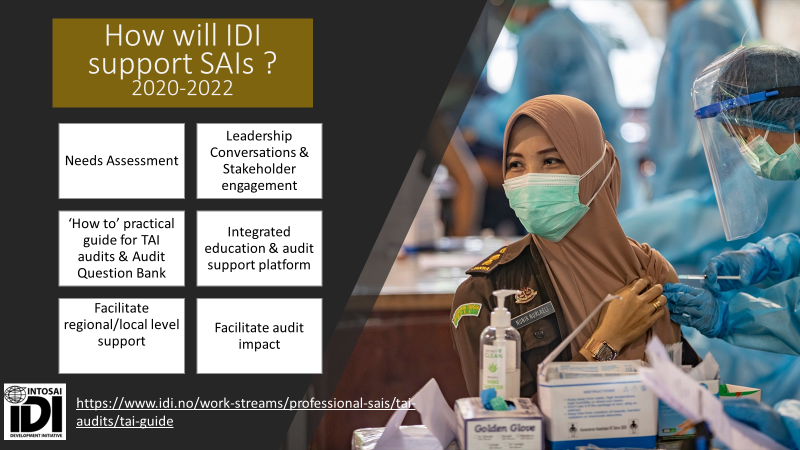 The TAI Practical Guide and three accompanying question banks on emergency public procurement, socio-economic packages and national rollouts of COVID-19 vaccines can be found on the IDI website.
Also available are the IDI-ACCA jointly-developed TAI audit articles on 'Leave No One Behind', 'Procuring at Speed' and 'Beyond Keeping Receipts', along with a number of videos featuring Heads of SAI. All these materials are available in four languages.
We value tremendously the in-kind contribution provided by the following SAIs in helping us create a pool of 36 regional mentors. This mentor pool and the IDI team are currently supporting 207 SAI Auditors and supervisors through the integrated education and audit support platform. Of the 207, 107 are female and 100 are male, which is an excellent reflection of IDI's commitment to gender balance.
Hajer Ghirr, on secondment to IDI from SAI Tunisia, is leading the TAI rollout in ARABOSAI, while SAI Argentina is providing substantial in-kind contribution by nominating a resource person, Anibal Kohlhuber, to work as a part of IDI's team in managing the TAI Audit rollout for OLACEFS. Special thanks are due to Hajer and Anibal, who both play a significant role in the core IDI team for TAI Audits.

We are also grateful for the cooperation and support provide by our cooperation partners from INTOSAI Compliance Audit Subcommittee, INTOSAI regions, International Budget Partnership, IMF, World Bank, ACCA, and GAVI.
We hope that, in the short term, TAI audits will contribute to improved transparency, accountability and inclusiveness in the use of emergency funding for COVID-19. In the longer term, SAI recommendations from this audit could contribute to setting up more transparent, accountable and inclusive frameworks for public spending during emergencies.